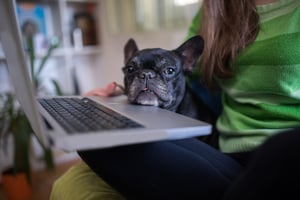 Definition: telecommuting
The past decade has seen a 115% increase in telecommuting. So what exactly is telecommuting and why is it so popular?
Telecommuting is the ability for employees to work from a location other than the office. Telecommuting is often marked by a large reliance on technology for communication and collaboration purposes, as employee teams are scattered in different locations.

Types of telecommuters:
Remote employees

Virtual employees

Mobile employees

Digital nomads

Employees who work from home
Why are more employees working remotely?
Increasingly, workplace flexibility is offered as an employee benefit. But, why exactly? Since the end of the recession, the employee recruitment market has experienced a power shift— employers are competing to hire quality candidates which allows candidates to be more choosy when it comes to selecting a position. In order to stay attractive to these quality candidates, many employers invest in their employee benefits—specifically by offering employees the ability to telecommute.
Why is everyone so interested in telecommuting?
The increasing employee focus on telecommuting as an employee benefit directly relates to the demographic composition of the modern workforce. As the baby boomer population reaches retirement and millennials move into the workforce, cultural attitudes and expectations have changed. This rising millennial generation places more value on the work that has been accomplished rather than the time taken to accomplish the task or the location in which the task was accomplished. Because of this cultural attitude, millennials are asking for the opportunity to telecommute.