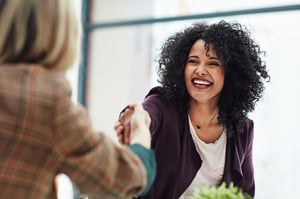 51% of employees report job satisfaction
Employee retention is a struggle that many employers face in the modern recruiting market. In order to remedy high turnover rates, employers are trying to find ways to keep employees satisfied with their employer organization.
According to a report conducted by The Conference Board, 51% of employees in the United States are satisfied with their jobs overall. With just a little more than half of the workforce reporting job satisfaction, that leaves nearly one half of workers dissatisfied with their overall workplace experience. So what are employers doing well? What could be improved?
Assessing job satisfaction
This survey divides employee satisfaction into 23 separate parts (see chart to the right). From these factors, we can differentiate 3 primary categories of job satisfaction: social, benefits and development. According to the statistics from the report, we can rank these 3 categories as such:
Employees are most satisfied with the social aspects of work.

Employees are moderately satisfied with their workplace benefits.

Employees are least satisfied with development opportunities.
Job satisfaction by income
The above statistics represent the workforce in general. What does job satisfaction look like if we segment it by income? The results may surprise you: employees with lower income jobs report greater increases in job satisfaction than their higher income counterparts. The Conference Board attributes this to the tightening labor market in which employers must offer better workplace conditions in order to keep employees. Despite this employment satisfaction gap, higher income employees also report increased overall job satisfaction over time. In fact, 2018 is the 7th year in the row that general employee job satisfaction has increased.
How to determine employee satisfaction
While these statistics serve as a good benchmark for employee job satisfaction in general, it is important to consider that your organization may deviate from these trends. When assessing employee satisfaction within your own organization, it is best to create a survey for employees to fill out. Using information collected from this survey, you can better understand how your organization compares to national job satisfaction trends and focus on maintaining high satisfaction factors and improving low-satisfaction factors.
Better benefits can improve job satisfaction. Bernard Health can help - click below to find out more.