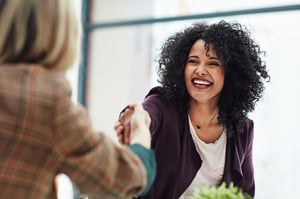 Efficiently onboard new hires
Onboarding an employee and getting them up to speed can be a hassle. It involves planning, paperwork and labor law expertise. With all of these elements combined, bringing on a new hire can be stressful and time consuming—especially when you have a million and one other things to get done.
Here is a list of onboarding best practices that will increase your onboarding efficiency and improve your new hires' onboarding experience.
Onboard online
As a cost effective practice, employers must learn optimize employee onboarding. The first step to in creating an efficient onboarding procedure is to take onboarding online. By taking onboarding online, you can eliminate the need for paperwork, and as a result, decrease the time it takes to onboard a new hire. Online onboarding also allows you to keep record of your new hire documents without any added steps.

Have your hires onboard before their first day
By taking onboarding online, you can provide your employees a way onboard before their first day. This strategy benefits both the administrator and the employee. The employee benefits because they don't have to worry about the stress of onboarding paperwork on their first day. The administrator benefits because the employee can start learning his/her position sooner, which ultimately decreases time to full productivity.
Compile an employee handbook
In the onboarding process, employees should review and acknowledge a full employee handbook. This employee handbook should include sections on governing principles, operational policies, benefits, leave of absences and general standards of conduct.Your employee handbook should be readily accessible to every employee at all times. If you use onboarding software, attach this document to the onboarding process so that each employee's acknowledgement of the terms are recorded.
Have an agenda ready
The employee onboarding experience significantly impacts retention. If an employee has a good experience, that employee will become much more likely commit to your organization, which will help you maximize money spent during the hiring process.

On your employee's first day, you should have an agenda that lays out a timeline of tasks and goals and the steps to take to get started. These goals should start with understanding the position and cultural expectations within the company. This timeline of tasks and goals should extend for a significant period of time so that the new hire can begin time management from the beginning.
Define available resources
It is easy for a new hire to feel overwhelmed when they start. In order to alleviate some of this stress, clearly define the resources available to the new hire. These resources should include procedures to take, communication channels to use, and platforms through which information can be accessed. By clearly defining available resources, you can train your new employee to become self-sufficient—a skill set that will benefit them for the long term.
Need help with HR and benefits? Click below to speak with a Bernard Health advisor.